Social media has seen exponential growth within the last 15 years, constantly adapting and evolving to cater to its users' needs, desires, and preferences. Even though social media websites date back to the 1990s, today's digital world welcomed the "online social era" gracefully.
It's nearly impossible to find someone who doesn't use a social media platform these days. Whether it's Facebook, Twitter, Instagram, or even LinkedIn, social media continues to evolve and take up a growing portion of our daily lives.
What was thought to be a fleeting trend has become one of our primary forms of digital communication, entertainment, and a place to share information and ideas.
Recent social media usage statistics are staggering, showing nearly three-quarters of adults in the United States use social media, along with over 90% of teenagers.
The dramatic rise in social media use prompts the question, "How much is too much?" While there are positive cases for social media, it can also cause a series of harmful effects on its users.
According to Tufts University, "Social media refers to the means of interactions among people in which they create, share, and exchange information and ideas in virtual communities and networks."
In other words, social media is an electronic form of communication and information-sharing where users can create and distribute unique content or view the content of others.
A Pew Research Center report showed that 84% of American adults aged 18 to 29 use some form of social media. From survey results collected in February 2021, approximately 71% of U.S. adults stated they used social media, with the 65+ age group skewing the average downward with a usage rate of just 45%.
When Facebook first went live in 2005, the social media usage rate was just 5% compared to the 71% usage statistics seen today, further highlighting the rapid rise and dominance of social media on the web.
Social Media Pros and Cons
While social media offers a variety of benefits like being able to keep up with family, socialize with friends, and otherwise create an environment that fosters communication and connectivity, it isn't without its flaws. Below are some of the pros and cons of social media:
Pros of Social Media
Connects people all over the world in mere seconds
Allows instantaneous discovery of news and real-time information
Fosters easy and instant communication
Creates marketing opportunities for business owners to reach a wider audience
Can promote public participation and civic engagement
Can save you in emergencies with time-sensitive information and announcements
May be used for content discovery and brainstorming new ideas
Provides a great source of entertainment
Cons of Social Media
Can spark information overload and feelings of overwhelm
Can make children, teens, and young adults vulnerable to cyberbullying and peer pressure
Prompts questions related to privacy, data retention, and data storage
Can increase feelings of social isolation or loneliness
Can evoke feelings of "FOMO" or the "Fear of Missing Out"
May promote procrastination and distraction
May lead to sleep disruption and a sedentary lifestyle
Can become fertile grounds for criminal and illegal activity
May become addictive, resulting in excessive usage
Can evoke feelings of inadequacy, low self-esteem, and issues with one's self-image
Social Media in Daily Life
Social media use has become increasingly common in daily life, used by billions of people on a regular basis. While all age groups have a percentage of active social media users, not all of these cohorts use social media in the same way or to the same extent.
The Pew Research Center found that in 2021, a rapidly growing 81% of adults in the United States use YouTube on a regular basis, and Facebook continued to remain one of the most widely-used platforms with a usage rate of 69%.
Among young adults under the age of 30, Instagram, Snapchat, and TikTok were most widely used.
A 2019 study published in the European Journal of Communication analyzed how various life changes and circumstances could affect social media use in daily life. Researchers discovered that the most significant change in both the course of one's life as well as their social media usage habits came from having children.
Interestingly, they also analyzed the impact smartphones have on media use and found that there was an intimate connection between smartphone technology and the cognitive, physical, and emotional processes one experiences during life-disrupting events.
Having a social-media-ready smartphone available within arm's reach every second of the day can have a tremendous impact on social media usage and usage habits.
The negative effects of social media may include social isolation, depression, low self-esteem, and lifestyle disruptions that may arise from excessive or unmitigated use.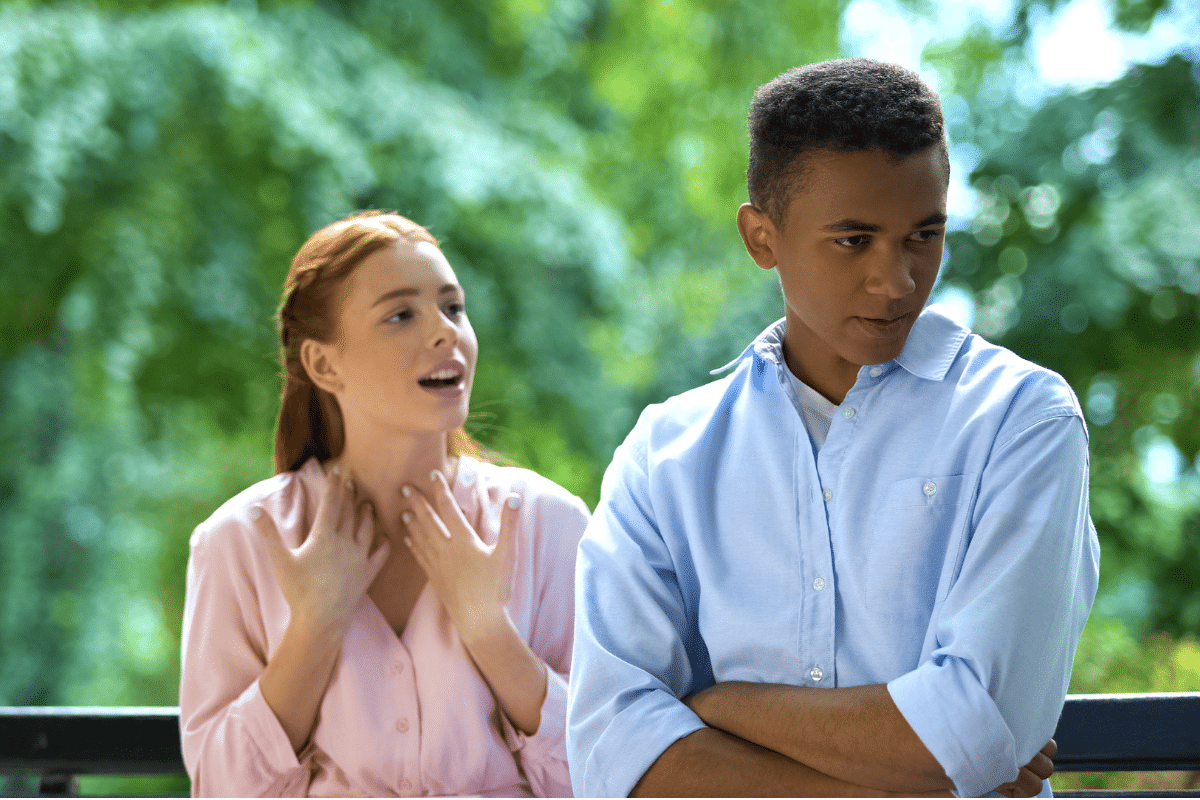 Social Media and Relationships
While social media can promote healthy relationships and communication between family, friends, and acquaintances, significant social media use can also alter familial relationships and behaviors.
Out of all age groups, teenagers are most susceptible to social media's destructive and addictive nature with excessive usage. This age group is also vulnerable to feelings of social isolation and depression from the social comparison that social media fosters. This can further manifest itself in family relationships and communication between parents and adolescents.
Most families these days provide their children with technological devices like cell phones or tablets, allowing them to connect to social media early on. Some families even communicate through social media messages within their households, which can create complex relationship structures within a family.
Brigham Young University (BYU) posted a Master's thesis from one of its students. The author analyzed the impact of digital attachment and social media on users' offline interpersonal relationships and emotional well-being.
Results showed that the longer someone would spend on social media, the more likely they were to experience decreased quality in their personal relationships and see a negative impact on their emotional well-being.
Excessive social media users' most common negative emotional effects included depression, frustration, and social comparison.
Social media use also decreased the quality of offline, personal relationships due to irritation, distraction, and decreased quality time with significant others.
Looking at the data and comparing various studies, there's a clear relationship between social media use and interpersonal relationships, illustrating how we must be careful in how we use social media and how we present it to our children and families.
Effects of Social Media on Mental Health
As prevalent as social media is today, it's responsible for exacerbating mental health problems and directly affecting the quality of real-life social relationships in a negative way. Social media can evoke feelings of envy that lead to depression and anxiety in individuals, potentially causing a downward spiral in psychological well-being.
In his 2021 Protecting Youth Mental Health advisory, the U.S. Surgeon General warned  the American public of a mental health crises among young adults caused in part by their overuse of social media. He cited several studies about the harms of social media, many of which "argue that digital technologies can […] lead to depression, anxiety, and self-harm."
It's essential to understand the potential effects social media use can have on the mental health of your child or teenager.
Social Media and Depression
Studies have shown that social media is correlated to increased feelings of depression among its users. This trend is especially visible in adolescents, highlighted by another study that connects increased screen time among teenagers with a higher risk of depression and suicide.
Social isolation, social comparison, and social peer pressure all contribute to increased depression on social media platforms, especially in young adults.
Social Media and Anxiety
Social media has been shown to be linked to increased feelings of anxiety upon excessive use. Teenagers faced the brunt of this effect by being one of the most likely age groups to suffer from anxiety caused by browsing and lingering on social media platforms. Being a teenager has its challenges, but these challenges are further exacerbated by stressors that arise from social media.
When an individual opens up social media and sees they weren't invited to an event, feels pressure to only post the most attractive version of themselves, and relies on getting likes and comments on their posts, a sense of anxiety can build quickly.
Social Media Effects on Body Image
According to a 2017 study, the use of social media platforms led to lower body satisfaction and self-esteem in young women. Further, the social comparison that social media promotes is tied to body dissatisfaction arising from comparisons to models and actresses who are standard in today's media.
Fortunately, there are steps that may be taken to filter out the negative aspects of a social media feed and make the user happier as a result.
Social Media and Eating Disorders
In women, dissatisfaction with their bodies can lead to harmful conditions such as eating disorders like bulimia nervosa or anorexia nervosa.
Social Media Effects on Self-Esteem
A publication in the European Scientific Journal found that approximately 88% of people engage in making some type of social comparison on Facebook, showing a direct link between social media use and lower self-esteem.
The Oxford Academic Journal of Communication published a study noting that a percentage of adolescents experienced negative effects on self-esteem due to social media use, even though they only observed the teenagers in the study for a short three-week period. The study concluded that person-specific effects from the use of social media couldn't be ignored in future research and theories.
Social Media Effects on Loneliness
A study from the University of Pennsylvania found that Facebook, Snapchat, and Instagram use can have negative impacts on a person's well-being and can increase feelings of loneliness and depression.
Similarly, a 2020 study from BMC Psychology discovered several interesting data points regarding "social media disorder" and its relationship to loneliness. Researchers found that females are more likely to experience loneliness from social media than males and that individuals with a secondary level of education are more likely to be affected.
Harvard Medical School touched on the fact that social media, when used in moderation, is beneficial. However, excessive use may be harmful to one's health and well-being and can trigger episodes of loneliness.
Social Media and Suicide
There have been a number of studies examining the relationship between social media and suicide, especially among young adults and teenagers within the United States. One controversial study noted how physicians in emergency departments could quickly assess a patient's mental health status by viewing their social media accounts. Although this study isn't practical due to privacy concerns and ethics, it highlights an important point – someone in mental distress would exhibit signs on their social media accounts.
A publication within the Current Opinion on Psychiatry noted that suicide is one of the leading causes of death in 10 to 24 year olds worldwide and that an independent association exists between the problematic use of the Internet and social media and suicide attempts in young adults.
The University of Utah highlighted the problem with teenage suicides and acknowledged that parents are the first line of defense. Parents of teenagers should take note if their child is acting differently and look for problematic behaviors that could be an indication of suicide risk.
Effects of Social Media on Teens
Teenagers are particularly vulnerable to the negative effects of social media as they are still in their developmental years.
On average, children begin to explore social media from the ages of 10 to 12, rapidly discovering how communication online can help them make friends, connect with family, assist with homework, share music, and engage in entertainment and games.
By the age of 17, approximately 75% of teens already have at least one active social media account, and over two-thirds of teenagers have a mobile device they personally own that has access to the Internet.
According to the University of Nevada School of Medicine, teenagers aren't sporadic in their use of social media either, with 50% of teens aged 13 to 17 visiting online platforms multiple times a day. Teenage girls spend over 140 minutes per day online, and teens, on average, can reach a staggering 70 minutes of online time daily.
How can I tell if my teenager is addicted to social media?
If your teenager is using social media for more than 120 minutes every day, it might be cause for concern as a parent. If your teenager is engaging in social media in unhealthy ways, such as cyberbullying or "sexting," immediate action is necessary to help your teen and safeguard them from harm or prevent them from harming others.
Some additional signs indicating social media addiction include:
Wanting to return to social media sites regularly
Social media impairing one's ability to work, complete tasks, or focus
Cutting back on previously enjoyable activities to use social media more
Using social media in potentially hazardous situations, such as working or driving
Reduced social interaction in the real world
Social Media Dangers for Teens
Social media can be dangerous for teens in several ways, some of which include:
Depression and mental health effects
Cyberbullying
Sexting
Exposure to harmful content
Privacy risks and oversharing personal information
Identity theft
Online predators
Social media addiction that interferes with daily life
Excessive exposure to advertisements influencing buying behavior
What can I do to protect my teenager on social media?
Fortunately, there are many ways parents can protect their teenagers from the negative effects of social media and monitor their usage to rule out any harmful risks.
Harvard Health explained that parents should limit their teenagers' time to use social media. This could be as simple as requiring everyone's phones to be placed into a basket at bedtime or during meals.
Maryville University stated some helpful guidelines parents should follow for social media safety:
Go over privacy settings in every application your teens' use
Implement parental controls on kids' apps and games
Remind your child that everything that goes out on the internet stays there forever, and encourage them to "think before they post."
Use ad blocking software to limit exposure to inappropriate advertisements
Have a family computer that's shared, making monitoring easier
If you have questions or concerns about how social media use might be negatively affecting your teen, contact the Social Media Victims Law Center today for more information about how we can help.
Frequently Asked Questions
Content Reviewed by:
Matthew P. Bergman
Add Your Heading Text Here
Sue H.
People who are taking care of loved ones who are traumatized can't stop thinking what they are going through. One reason it was so invaluable we had Matt in our lives is I was so completely distraught over what was happening that it was wonderful to know that someone in the background was making certain that things were being taking care of. I will always be grateful for that..
Richard M.
I would like to thank you and your staff for your continued efforts and support in assisting our family. . . Your firms' relentless pursuit for justice is greatly appreciated.