As the internet continues to evolve, so do the different types of cyberbullying on social media platforms. Teens and young adults are subject to the threat of multiple types of online harassment, including cyberstalking, outing, doxing, fraping, and catfishing, to name a few.
Written and edited by our team of expert legal content writers and reviewed and approved by

Examples of Cyberbullying
Cyberbullying refers to the use of electronic communication to harass, threaten, or humiliate others. Examples of cyberbullying include:
Sending mean texts or emails
Posting hurtful messages on social media
Spreading rumors online
Circulating false or embarrassing information about someone else.
Posting or sharing private images
Impersonating someone online to hurt their reputation
Excluding someone from an online group
Creating hate groups or websites against a particular person
Cyberbullying has been linked to teen depression. It can cause teens to feel increasingly anxious, embarrassed, and worried. In these instances, teens can experience physical and emotional trauma. Cyberbullying can also reach a point where it causes teens to contemplate or complete suicide.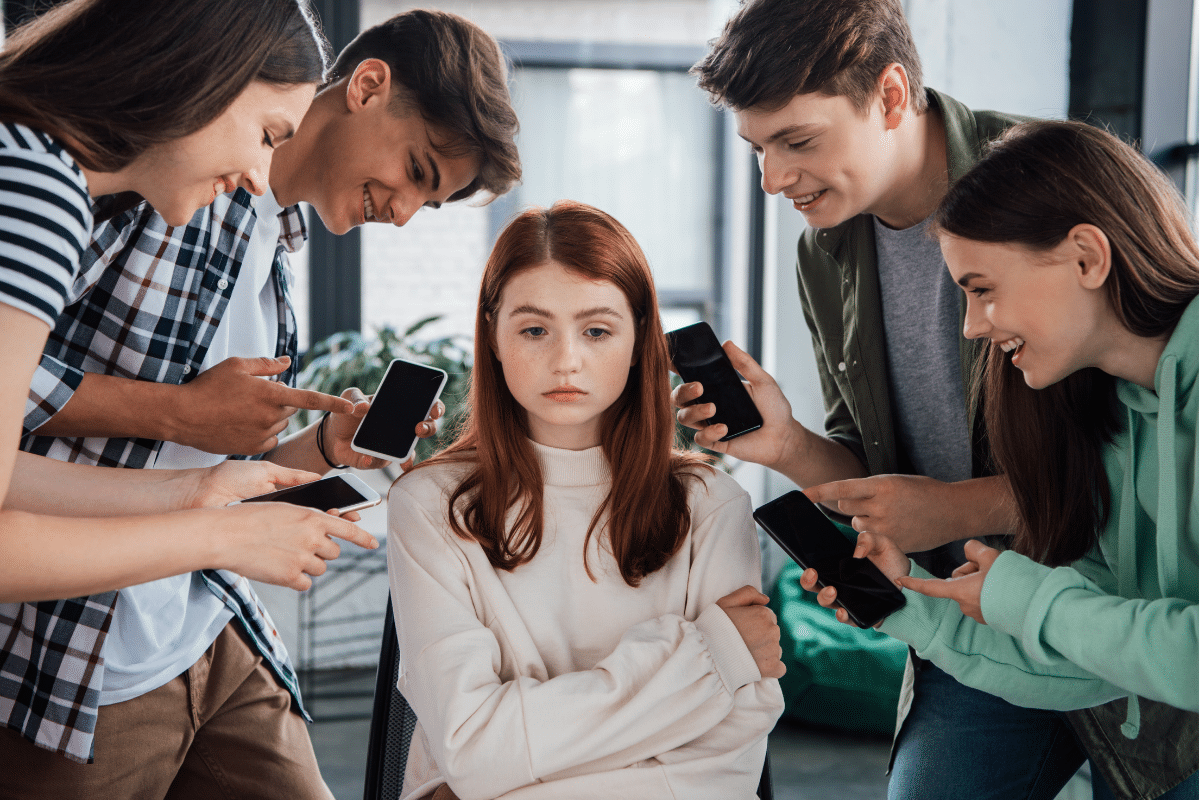 Legal Help for Cyberbullying
Has your child been affected by cyberbullying? It might be time to consult with an attorney.
Is your teen at risk?
Today, no teen is immune to cyberbullying. The prevalence of cyberbullying increased steadily between 2016 and 2021. The prevalence of cyberbullying among teens shows no signs of declining any time soon.
There are many reasons why teens cyberbully others. Some cyberbullies feel victims "deserve" to be attacked online. Others see attacking fellow teens online as a form of entertainment. Peer pressure and the desire to fit in can lead teens to become cyberbullies, too.
Your teen may be unlikely to speak up about cyberbullying due to fear of retaliation or embarrassment. There are several signs that your teen is a cyberbullying victim, including:
Withdrawal from family events and other social gatherings
Sudden decline in performance at school
Refusal to go to school or uneasiness about attending
Reporting feeling ill to avoid going to school
New avoidance of going online
There are several signs that your teen may be cyberbullying others as well. These signs can include:
Avoids conversation about their online activities or social media use
Has multiple social media accounts
Switches screens on their computer suddenly when a parent or teacher is nearby
Frequently uses their digital devices
Becomes overly upset or irritated if their digital device is unavailable
Keep an eye out for signs of cyberbullying in your teen. If you have concerns or questions about cyberbullying, discuss them openly with your child. You may be able to find a way to help your teen cope with cyberbullying now and in the future by keeping a dialogue going and offering them a judgment-free space to confide in you.
Cyberbullying takes many forms. Common types of cyberbullying include:
Exclusion
A cyberbully can intentionally leave someone else out of an online group or message thread. This can leave a victim feeling isolated and depressed.
Harassment
Harassment occurs when a cyberbully sends persistent and hurtful online messages to a victim. These messages can contain threats.
Cyberstalking
With cyberstalking, a cyberbully monitors a victim's online presence closely. The bully can also make false accusations and threats against the victim and their loved ones. Additionally, cyberstalking can extend to the real world, becoming quite serious and dangerous for the victim and potentially their loved ones.
Cyberstalking and offline stalking are both considered criminal offenses. In either instance, a victim can file a restraining order against their perpetrator. Furthermore, the perpetrator can face probation and jail time.
Outing
Outing someone on social media occurs when a cyberbully openly reveals a person's gender identity or sexual orientation without their consent. The bully does so in the hopes of embarrassing or humiliating the victim.
Doxxing
Doxxing
, or doc-dropping, is when a cyberbully maliciously shares personal data about an individual online that wouldn't normally be publicly known to harass or intimidate a victim. This includes personal information such as someones home address, school they attend, or their social security number.
Fraping
Fraping occurs when a cyberbully uses a victim's social media accounts to post inappropriate content with the victim's name attached to it. In this scenario, the victim is tied to online content that can damage their reputation.
Trolling
Not all trolling is considered cyberbullying, but cyberbullies can troll victims by posting derogatory comments about them online in the hopes of hurting these individuals.
Dissing
A cyberbully disses a victim by spreading cruel information about them. The bully does so via public posts or private messages, with the intent of damaging the victim's reputation or relationships with others.
Flaming
Flaming consists of posting about or sending insults and profanity to a victim. A cyberbully flames a victim in the hopes of getting this individual to engage in an online fight.
Denigration
A cyberbully denigrates a victim by sending, posting, or publishing false information online about the individual. Denigration usually consists of cruel rumors and gossip about a victim.
Impersonation
A cyberbully can impersonate a victim by posting comments on social media and chat rooms in the individual's name. Doing so can cause a victim to experience backlash from others based on the bully's online comments.
Trickery
A cyberbully can befriend a victim, to the point where the targeted individual feels comfortable sharing secrets and other sensitive information. The bully then publicly releases the information the victim shares to humiliate, shame, or otherwise harm them.
Fake Profiles
Cyberbullies can set up fake online profiles on behalf of victims. They can use these profiles to publish false content in their victims' names without the victims' consent.
Catfishing
With catfishing, a cyberbully exploits a victim's emotions. A cyberbully attempting to catfish a victim creates a fake online identity and pretends to be someone else. The bully can then engage with a victim using this false identity and build an online romance. Over time, the victim may trust the online user and share sensitive information with the individual. Then, the cyberbully can use this information to embarrass the victim and damage their reputation or expose them.
Parent Resources: How can you protect your teen from cyberbullying?
Don't expect cyberbullying to disappear on its own. Rather, be proactive to identify the warning signs of cyberbullying in teens. That way, you can help your teen deal with cyberbullying before it escalates. Also, you can ensure your teen understands the impact of cyberbullying and doesn't bully others online.
Some of the best things you can do to protect your teen against cyberbullying include:
Discuss cyberbullying with your teen and keep the lines of communication open.
Encourage your teen to come forward to discuss cyberbullying at any time. In addition, provide thoughtful responses to your teen's cyberbullying concerns and questions. If your teen is a cyberbullying victim, resist the urge to retaliate. Instead, work with your teen to find a constructive solution.
Provide your teen with multiple perspectives on cyberbullying.
Teach your teen about cyberbullying's impact on both a bully and victim. Also, share details about the physical and emotional side effects of cyberbullying on all involved. Speaking candidly about cyberbullying and its far-reaching effects can give your teen insights into the severity of cyberbullying.
Listen to your teen.
When your teen speaks about cyberbullying, actively listen. Don't interrupt your teen during a cyberbullying discussion. Also, don't lead the narrative. Instead, allow your teen to openly and honestly speak their mind about cyberbullying and share details about their own experiences. Giving your teen a safe space to share lets them know you respect, appreciate, and value their viewpoint. You can use the experience to establish trust with your teen, so they'll be more willing to open up to you, especially if they're faced with serious cyberbullying situations.
Seek professional help.
Consult with your teen's teachers and other school administrators regarding any reported instances of cyberbullying. You can get in touch with the parents of any teens involved in cyberbullying, as well.
If your teen talks about suicide or tries to commit suicide due to cyberbullying, call 911. If your teen is feeling hopeless or depressed, you can contact the National Suicide Prevention Hotline at 1-800-273-TALK for help. Additionally, you can seek out professional help for your teen from a cyberbullying counselor or therapist familiar with adolescent issues.
Lastly, Social Media Victims Law Center can help you and your teen deal with cyberbullying. We strive to hold the responsible social media and online networking companies accountable for allowing cyberbullying to persist. If your teen has experienced physical or emotional trauma due to cyberbullying, we're here to help in any way we can. To learn more or request a free consultation, please contact us online or call us at (206) 741-4862.
Frequently Asked Questions

Content Reviewed by:
Matthew P. Bergman
Add Your Heading Text Here
Sue H.
People who are taking care of loved ones who are traumatized can't stop thinking what they are going through. One reason it was so invaluable we had Matt in our lives is I was so completely distraught over what was happening that it was wonderful to know that someone in the background was making certain that things were being taking care of. I will always be grateful for that..
Richard M.
I would like to thank you and your staff for your continued efforts and support in assisting our family. . . Your firms' relentless pursuit for justice is greatly appreciated.