Effects of Cyberbullying: What Parents and Teenagers Need to Know
Cyberbullying is the use of electronic communication to harass, threaten, or humiliate someone. This can include sending mean texts or emails, posting hurtful messages on social media sites, or spreading rumors online. Cyberbullying can be very harmful and can lead to depression, anxiety, and in some cases, even suicide.
Written and edited by our team of expert legal content writers and reviewed and approved by

Cyberbullying, while often associated with cyberstalking, is a very serious issue on its own and one that has been increasing in prevalence over the past few years. Cyberbullying can have devastating effects on those who are targeted and those who witness it happening to someone else.
Statistics show that cyberbullying happens more often among teenagers than adults. So, let's look at the numbers:
The effects of cyberbullying can be devastating for the victims. They may experience various negative emotions, such as sadness, anger, frustration, and humiliation. They may also feel isolated and alone, as if they have no one to turn to. The victims may also suffer academically, as they may be too embarrassed to go to school or participate in class. In some cases, the victims may even consider suicide.
Cyberbullying can also have adverse effects on those who witness it happening to someone else. They may feel scared, helpless, and sad. They may also have trouble sleeping and eating and may even develop anxiety and depression.

Cyberbullying Is Common on Social Media
Social media sites are very public, so the messages can be seen by many people very quickly. Additionally, social media sites allow people to share their thoughts and feelings anonymously, making it easier to be mean or hurtful.
According to a Cyberbullying Research Center study, 73% of teenagers who have been cyberbullied have experienced it on social media. The most common sites for cyberbullying are Facebook, followed by Twitter, Instagram, and Snapchat.
Cyberbullying Among Teens
Cyberbullying is becoming increasingly common among teenagers. The Pew Research Center study mentioned earlier found that the percentage of teenagers who have experienced cyberbullying has increased from 41% in 2012 to 59% in 2015. This may be because more and more teenagers are using smartphones and social media sites, and these sites are becoming more popular among this age group.
The Cyberbullying Research Center also found that teenagers who experience cyberbullying are more likely to experience other forms of bullying, such as face-to-face bullying and online harassment. They are also more likely to have mental health problems, including depression and anxiety.
Other Online Social Networking Sites Where Cyberbullying Happens
Besides social media sites, the various types of cyberbullying also take place on different online networking sites. These include:
Texting and messaging apps. The most common app for cyberbullying is text messaging. About half of all teenagers cyberbullied were harassed through text messages.

Messaging online, including Instant messaging and direct messaging. Instant messaging (IM) and direct messaging (DM) are popular ways to cyberbully someone. These apps allow people to send messages quickly and privately, making it easier to cyberbully someone privately.

Online forums, chat rooms, and message boards. Forums, chat rooms, and message boards are places where people can talk to each other online. They can be used for positive purposes, such as discussing a topic or sharing ideas. However, they're also used for negative purposes, such as cyberbullying.

Email. Email is another way that people can cyberbully each other.

Online gaming spaces. Many teenagers enjoy playing online games. However, these games can also be used to cyberbully someone. The person who is being bullied may be harassed or threatened while they're playing the game. Additionally, their personal information may be shared without their consent. This can lead to them being harassed offline as well.
Psychological Effects of Cyberbullying
The psychological effects of cyberbullying can be just as damaging as the physical effects. Victims of cyberbullying may experience a range of negative emotions, such as sadness, anger, fear, and embarrassment. They may also feel isolated and alone.
As you can see, cyberbullying can have a lot of negative effects on teenagers. The victims may experience physical and psychological problems, and the bullies may also suffer from these problems.
The physical effects of cyberbullying include headaches, stomach aches, and sleeping problems. The psychological effects include anxiety, depression, self-harm, and suicidal thoughts.
Cyberbullying can also have a negative impact on the victim's schoolwork. Victims may have trouble concentrating in class and may not want to go to school. They may also receive lower grades than they usually would.
Victims of cyberbullying may also have trouble forming relationships with other people. They may be afraid to trust anyone and may not want to socialize with others. This can lead to them feeling lonely and isolated.
Tips for Teens Who Fall Victim to Cyberbullying
If you're a teenager and you fall victim to cyberbullying, there are some things that you can do to help yourself.
Talk to someone that you trust about what's going on. This could be a parent, friend, teacher, or counselor.

Keep

evidence

of cyberbullying. This includes screenshots of the messages, emails, or posts that were sent to you.

Block the bully from contacting you. You can do this on social media sites and messaging apps.

Report the cyberbullying to the website or app where it took place.

Tell your parents or guardians about what's going on. They may be able to help you get the bullying stopped.

Seek professional help if you're feeling overwhelmed or suicidal.

Seek out support groups or counseling for victims of cyberbullying.
As you can see, it's important for both parents and teenagers to be aware of cyberbullying and its effects.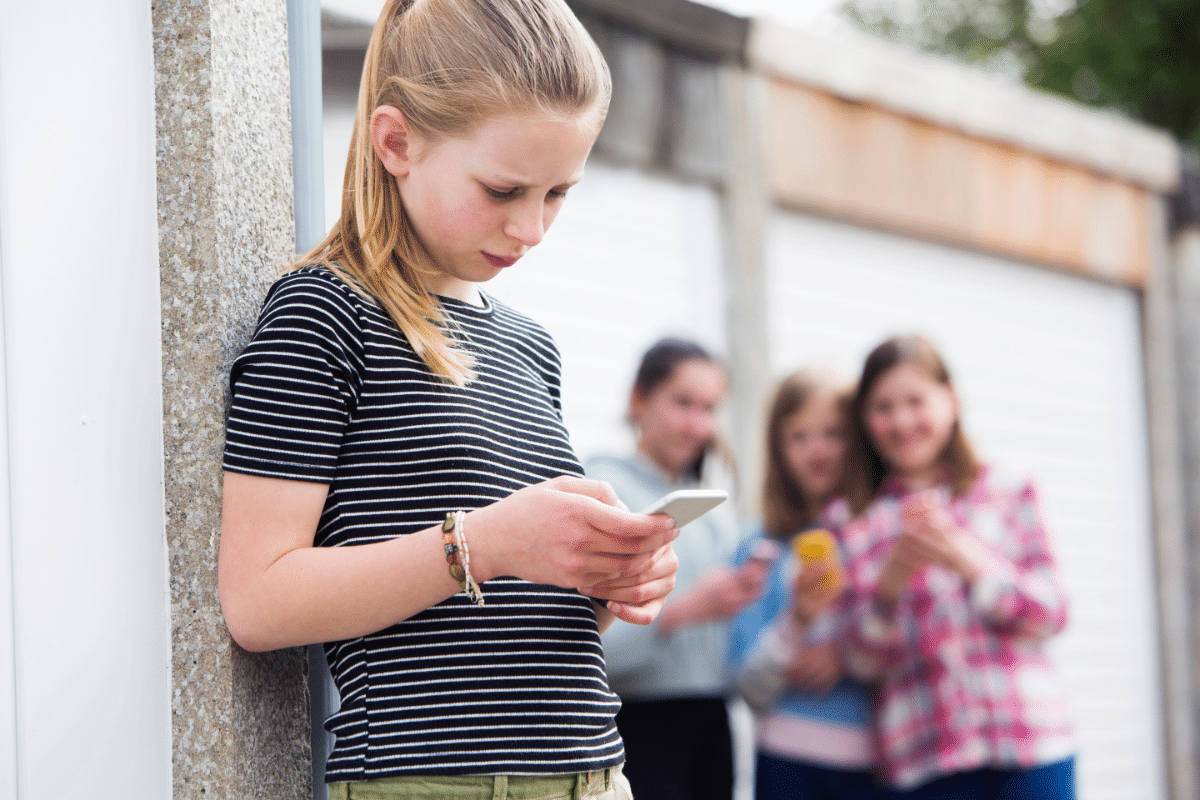 Talking to Your Teen About Cyberbullying
Cyberbullying has many adverse effects on teenagers, both victims and bullies. Parents should be aware of these effects and take action if they believe their teen is being cyberbullied.
There are a few things that parents can do if they think their teen is being cyberbullied.
Talk to Your Teen About What's Going On
Start with open-ended questions to get your teen talking. Ask what's going on, what they're feeling, and whether they've tried to stop the bullying. Listen without judgment and let your teen know that you support them.
Show Your Teen That You Support Them
Parents can show their support for their teens in many ways. Some parents might want to show their support through words, while others might show it through actions. No matter what you do, make sure that your teen knows that you're there for them and that you will help them get the bullying stopped.
Help Your Teen Block the Bully From Contacting Them
If your teen is being cyberbullied, help them block the bully from contacting them. This can be done on social media sites and messaging apps.
Report the Cyberbullying to the Website or App Where It Took Place
If your teen is being cyberbullied, report it to the website or app where it's happening. This will help get the bullying stopped.
Get Professional Help if Your Teen Is Feeling Overwhelmed or Suicidal
If your teen is experiencing many adverse effects from cyberbullying, they may need professional help. Make sure that you encourage young people to seek out help and support if they need it.
Cyberbullying can have serious consequences for both the victims and the bullies themselves. Therefore, both parents and teenagers should know the effects to prevent cyberbullying from happening or deal with it if it does occur.
Make sure your children and young adults know how to protect themselves online. Parents should also be aware of the signs that their child may be a victim of cyberbullying so that they can take action if necessary.
If you believe your child has already been harmed by the effects of social media, please contact us for a free consultation.
Frequently Asked Questions

Content Reviewed by:
Matthew P. Bergman
Add Your Heading Text Here
Sue H.
People who are taking care of loved ones who are traumatized can't stop thinking what they are going through. One reason it was so invaluable we had Matt in our lives is I was so completely distraught over what was happening that it was wonderful to know that someone in the background was making certain that things were being taking care of. I will always be grateful for that..
Richard M.
I would like to thank you and your staff for your continued efforts and support in assisting our family. . . Your firms' relentless pursuit for justice is greatly appreciated.